September 22, 2022 Another gorgeous day in Provence. Today we walked past the Rampart Wall to the banks of the Rhone, strolling along its banks to Pont St. Benezet. Because we can spend so much time traveling, we do not have to rush from one place or attraction to another each day. Instead we spend our time really savoring where we are and what we are doing. There are tourist and travelers. We think of ourselves as travelers. In our former life we were tourists, Those days had us leaving on vacation at noon on a Friday, driving a 1,000 miles by the afternoon of the next day, Staying in one location for the week doing hub and spoke day trips while racking up at least another 1,000 miles, then driving back home the same way we drove to our destination. Now those days are only distant memories of another life as we travel and experience, not rush and see as in the past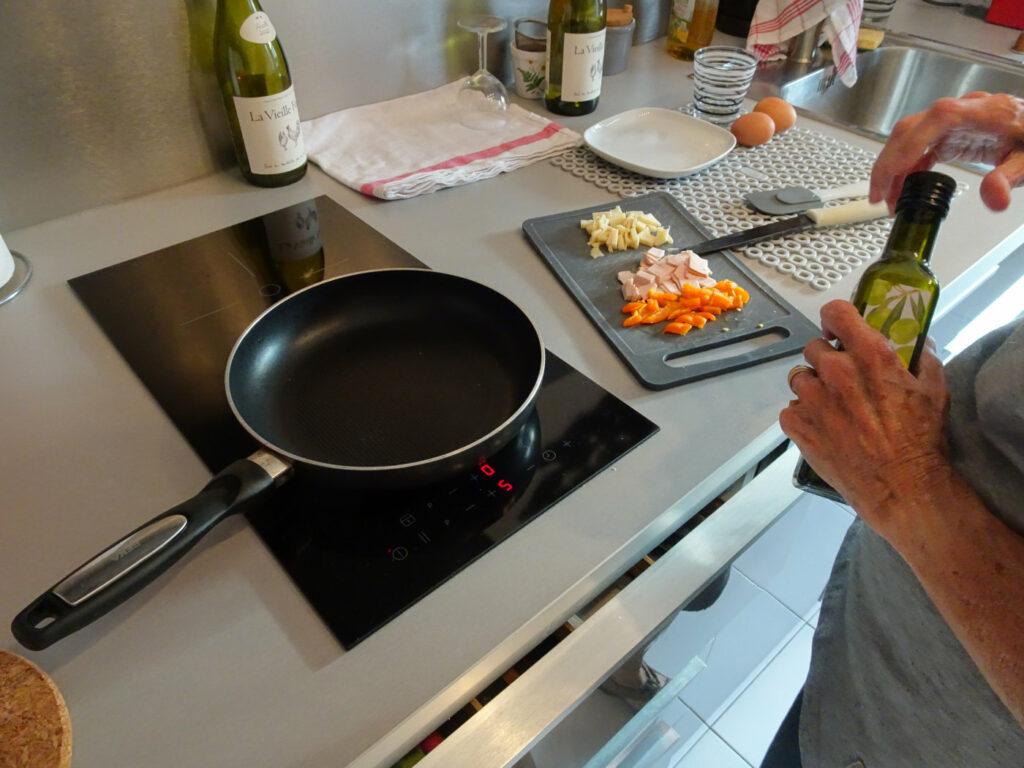 Why we so much enjoy staying in apartments rather than hotels. Breakfast our way rather than their way.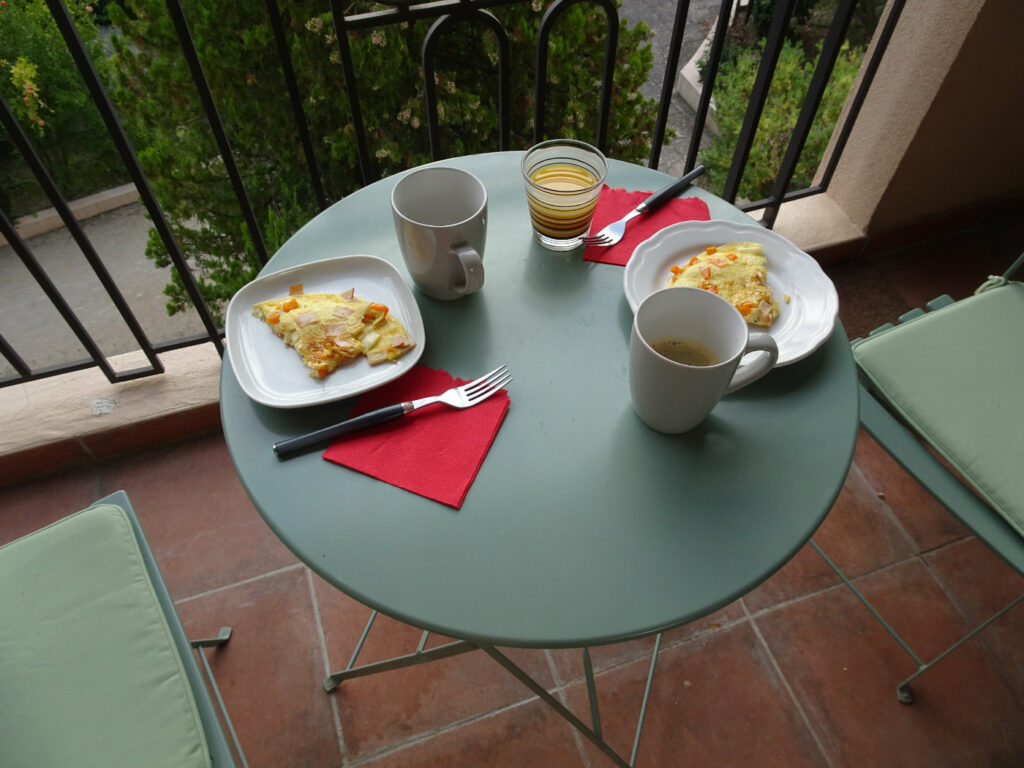 In only one hotel during our years of traveling outside of the US have we had a hotel where we could eat breakfast on the patio. It was the most unique hotel we have ever stayed at, ever, ever. Grüne Zitadelle von Magdeburg, Germany was the place and it unique in all the world. If you ever get the chance, you MUST stay there, even if for just one night because everything is not as one expects it to be. Really, Really.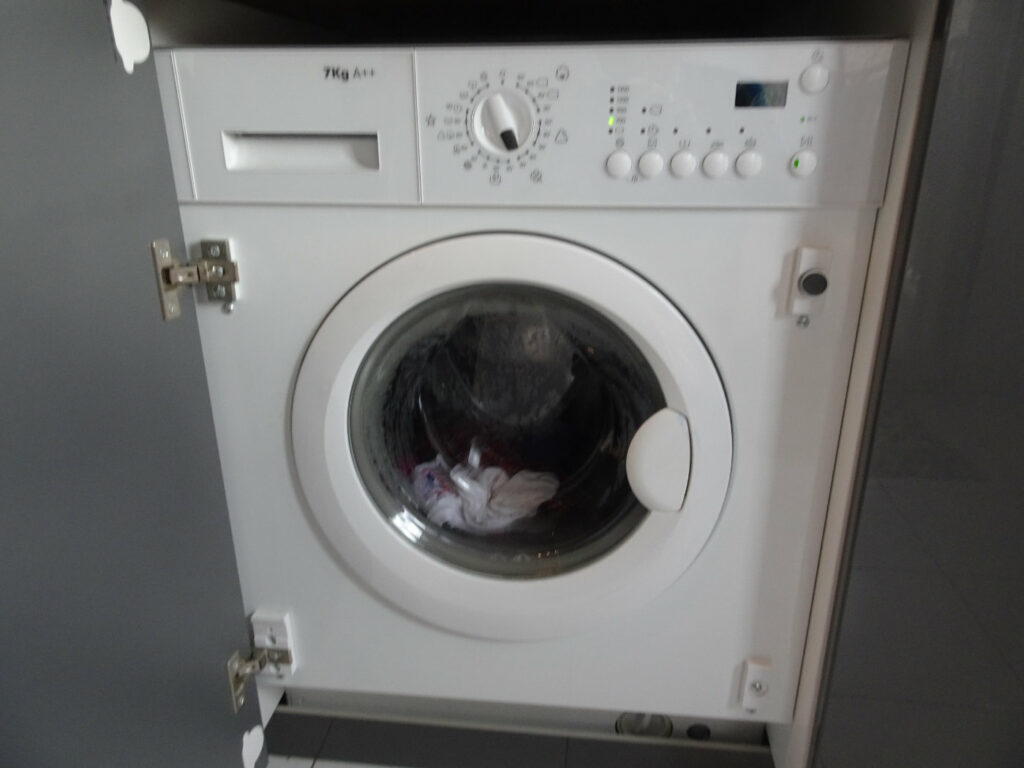 Someone on our family loves the fact the apartment has a clothes washing machine.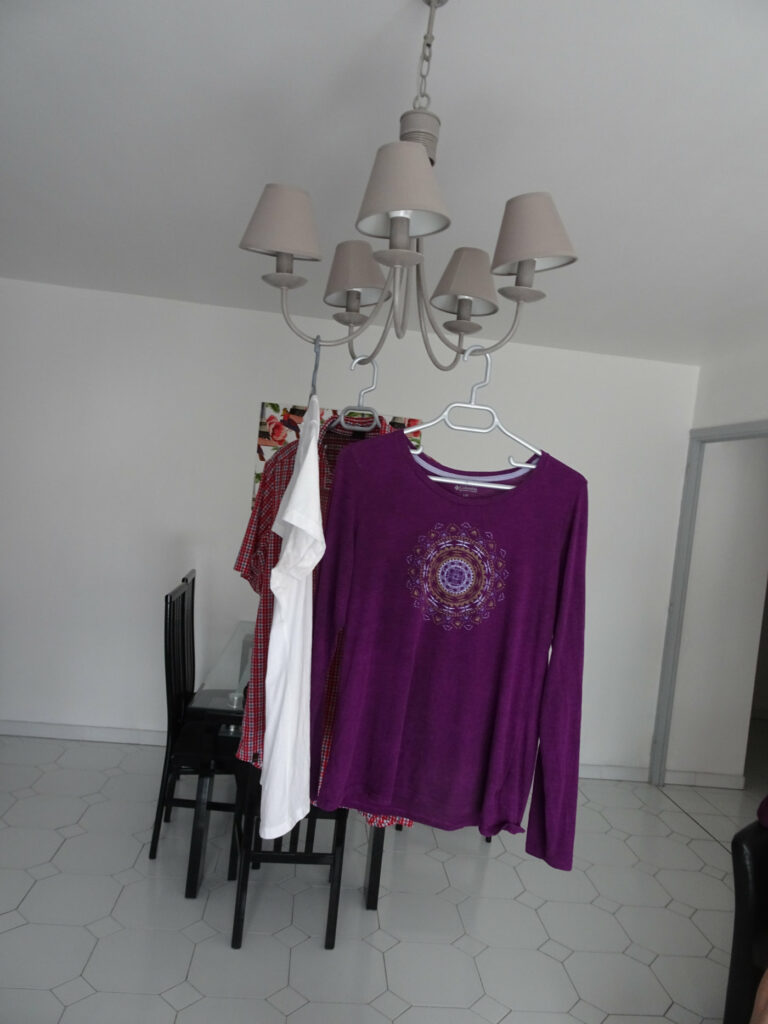 My wife would never let the fact there is only a washing machine and no clothes dryer stop her.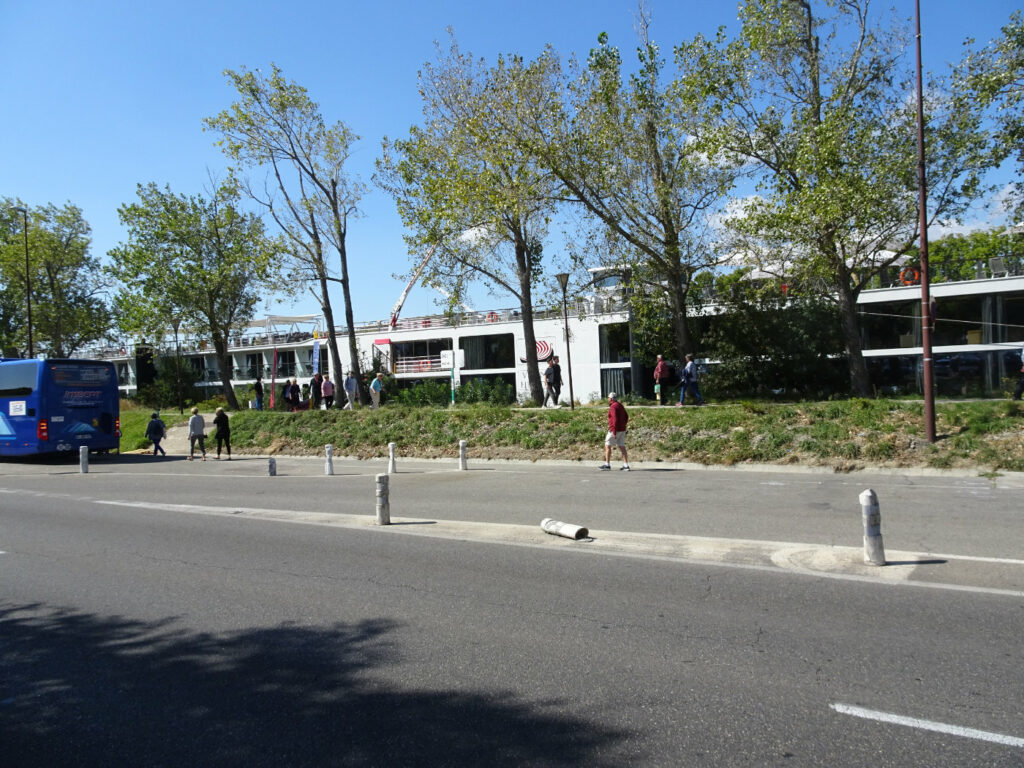 The river boats on the Rhone are beyond huge.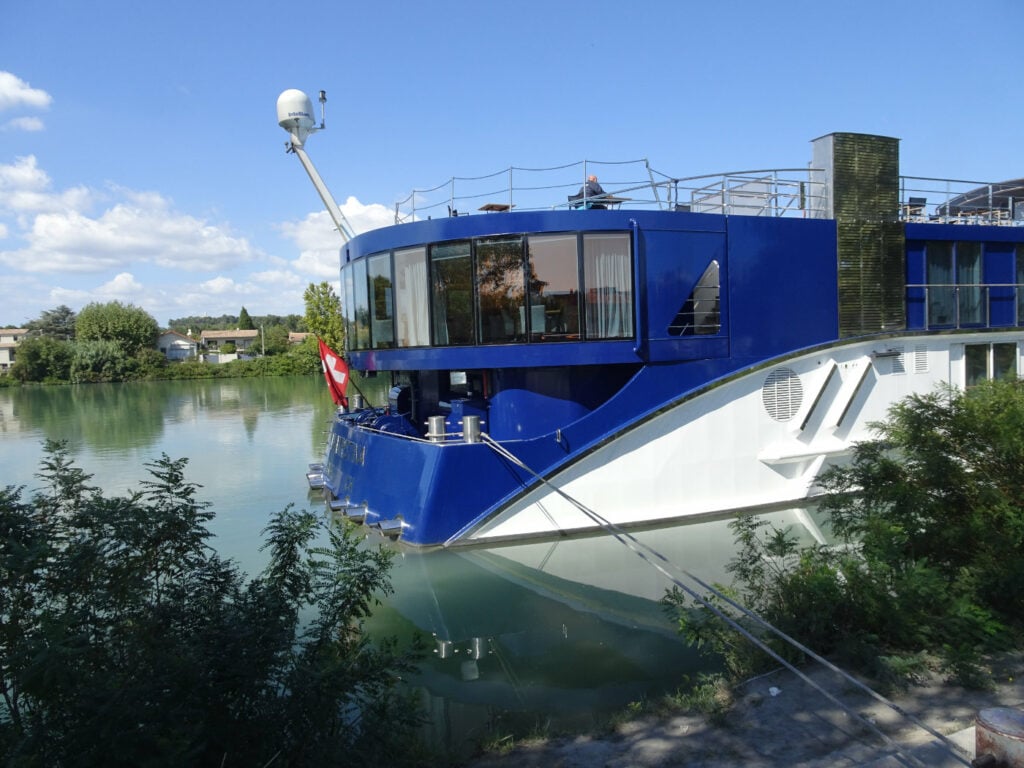 The stern of the MS Amakristina.
Ship Specifications:
Built: 2017
Built in: Netherlands
Length: 443 feet
Width: 38 feet
Crew: 51
Staterooms: 78
Suites: 4
Registry: Switzerland
Busses lined up to take the river boat passengers on their day trips.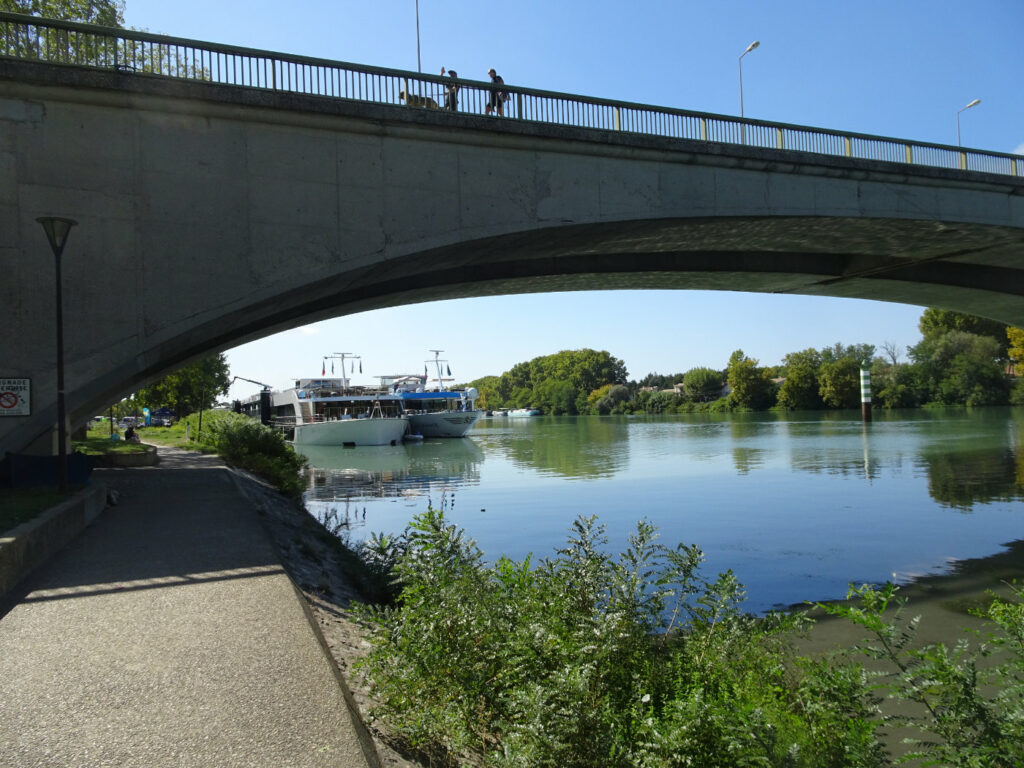 River boats double parked.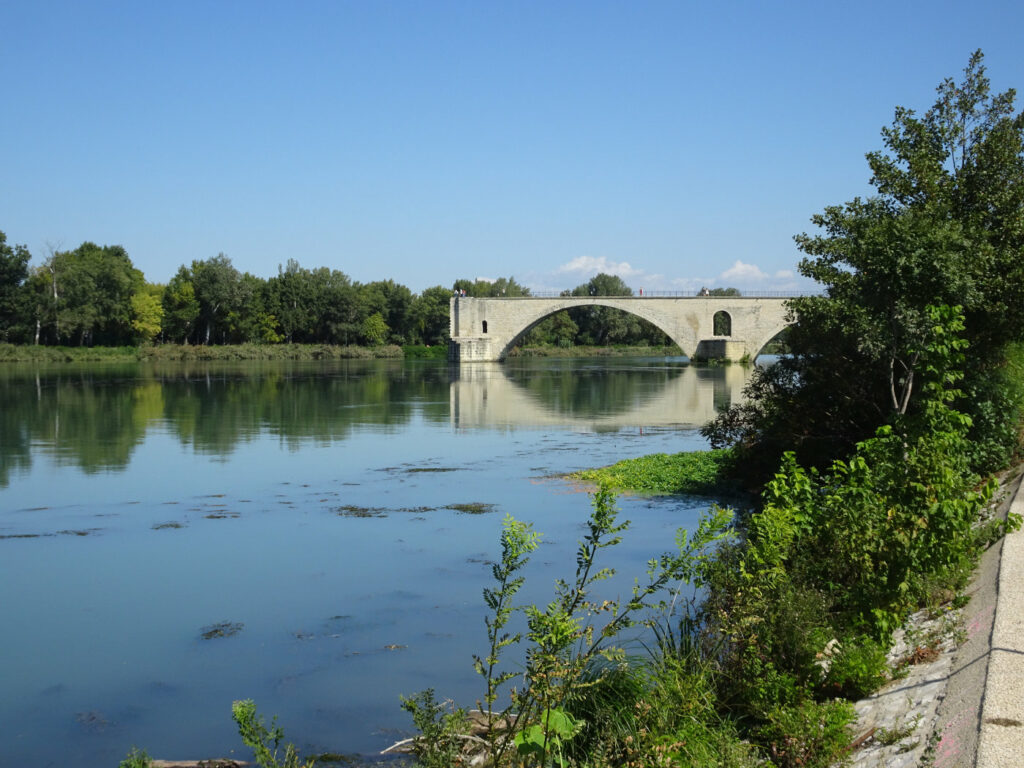 Originally built in the 1200's only 4 of the original 22 arches remain standing of the Pont St. Benezet. It was named after the patron Saint of bridge builders, St Benezet who Jesus commanded he build a bridge across the Rhone at this spot according to the Catholic Church mythology.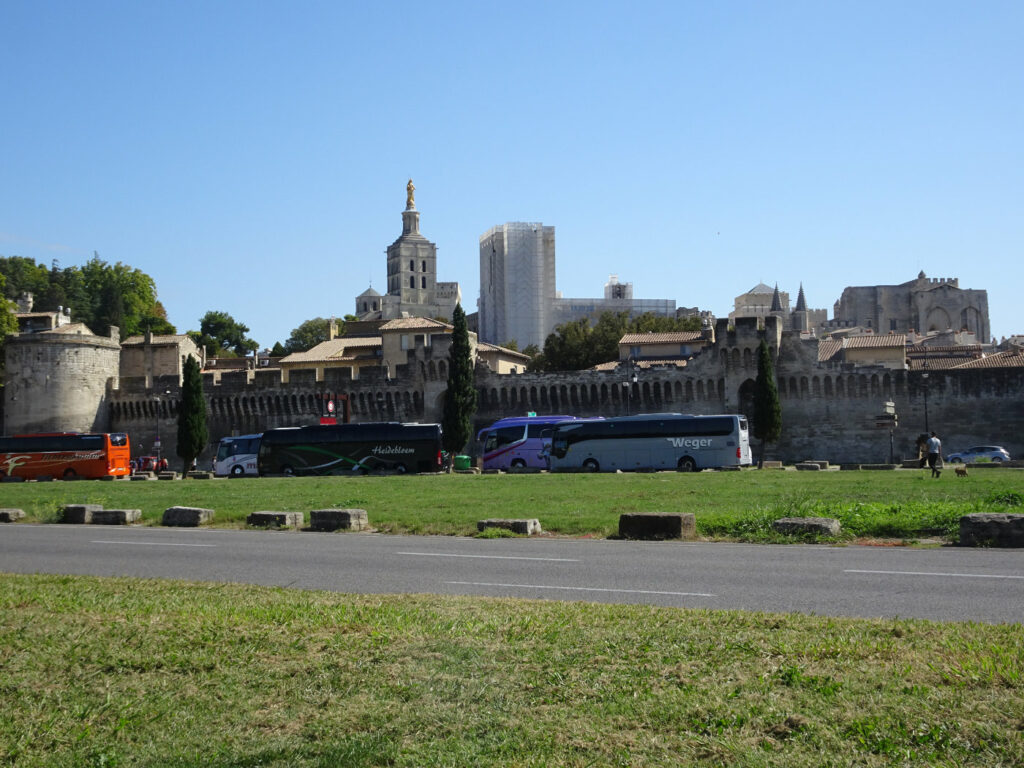 Palace of the Popes is here somewhere. The dichotomy of the history of the Catholic Church between the Catholic version and the non-Catholic version is eye opening.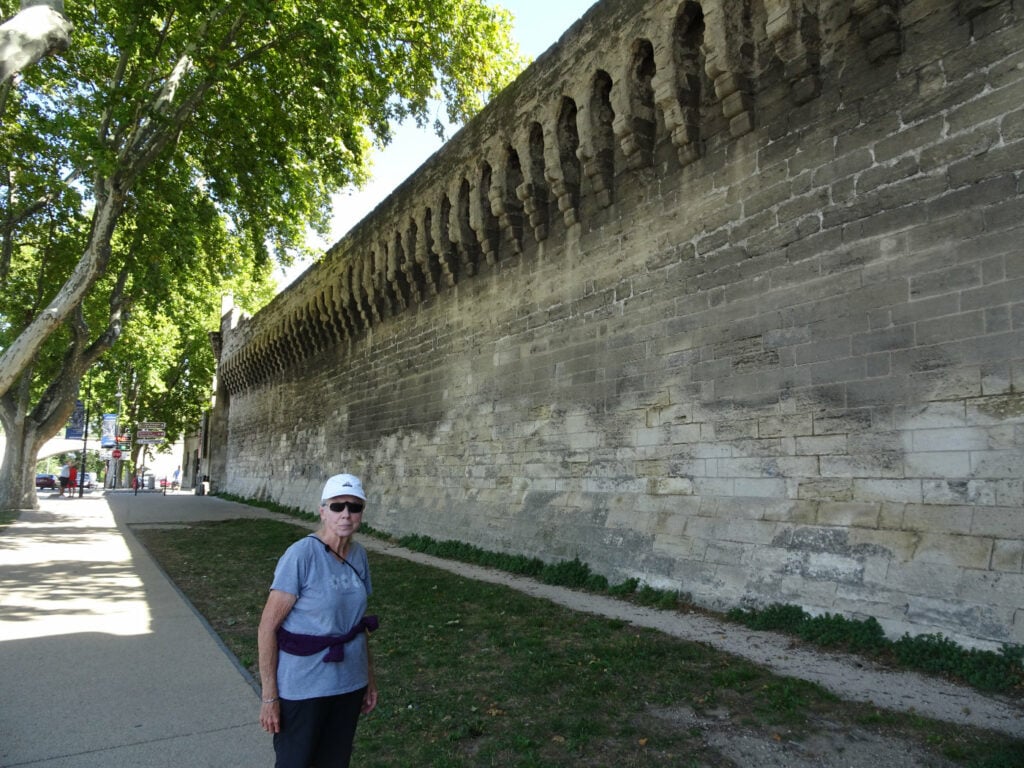 4.3 kilometers of Ramparts still remain.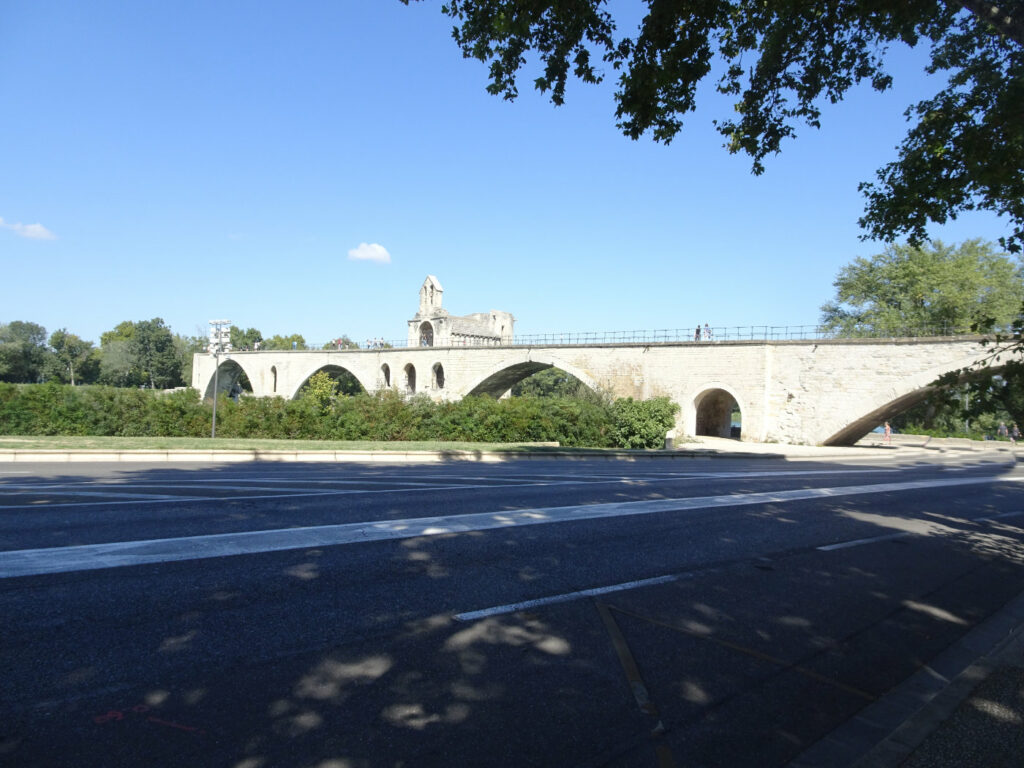 We chose not to walk out on the remaining section of the bridge, it being more tourist trap than anything else.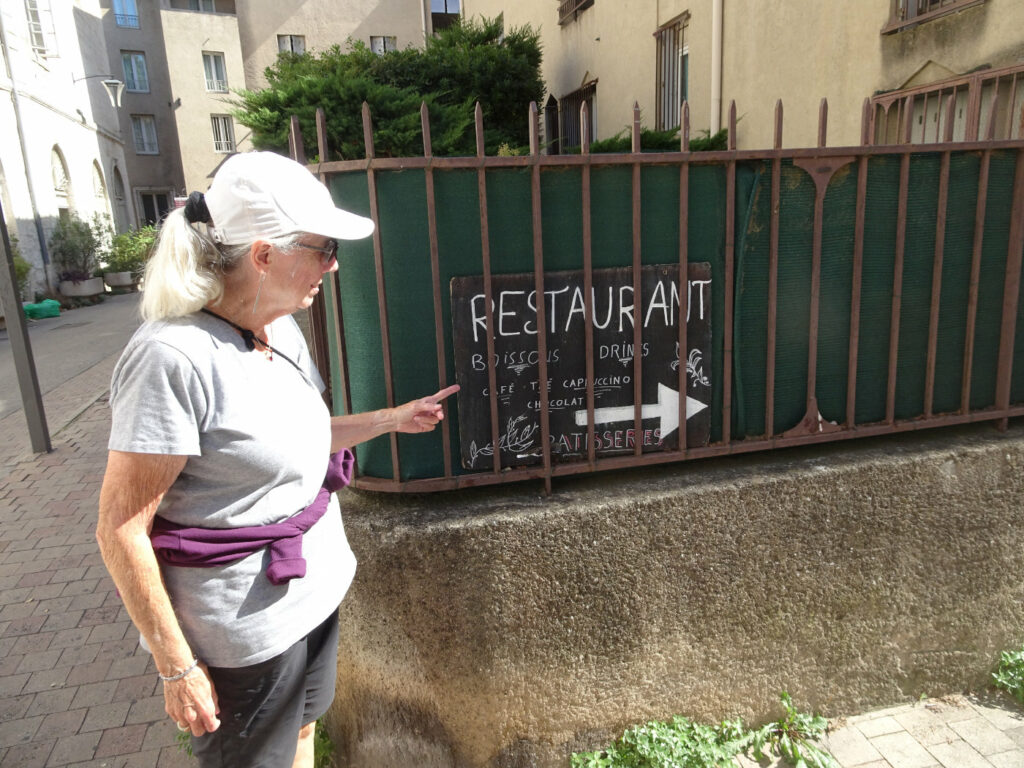 Walking into the old city near the bridge we spied this innocuous sign.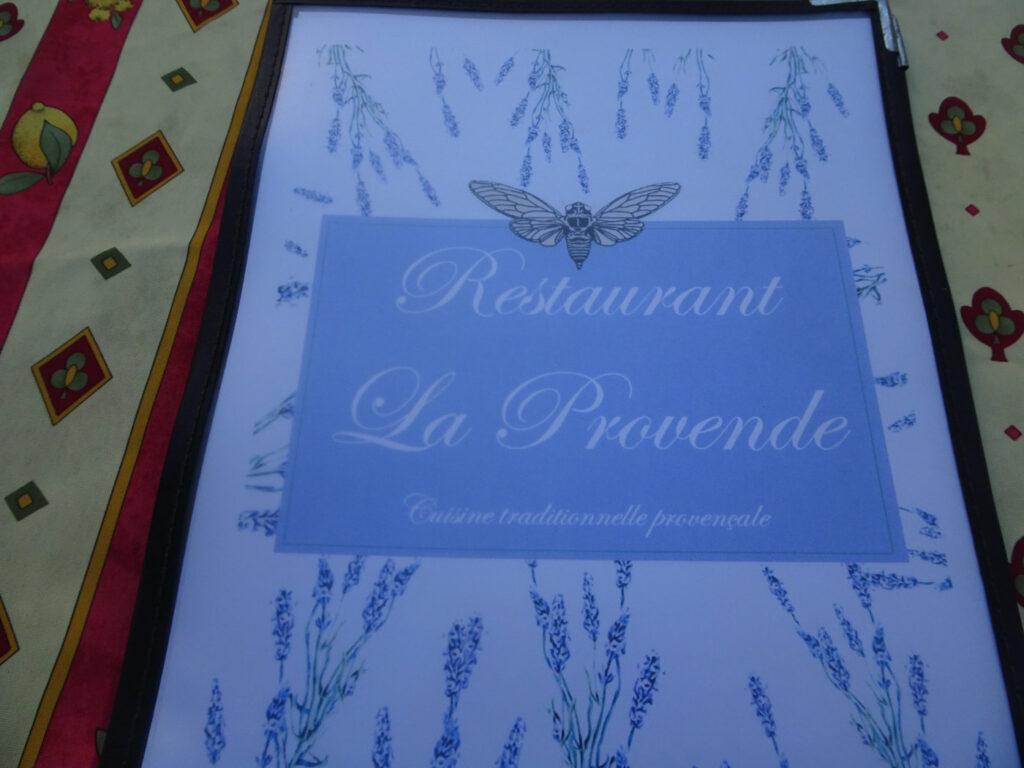 It lead us down to one of those places we have over the years called "Stumble Upons". Places you would never expect to find, but thru shear luck discover.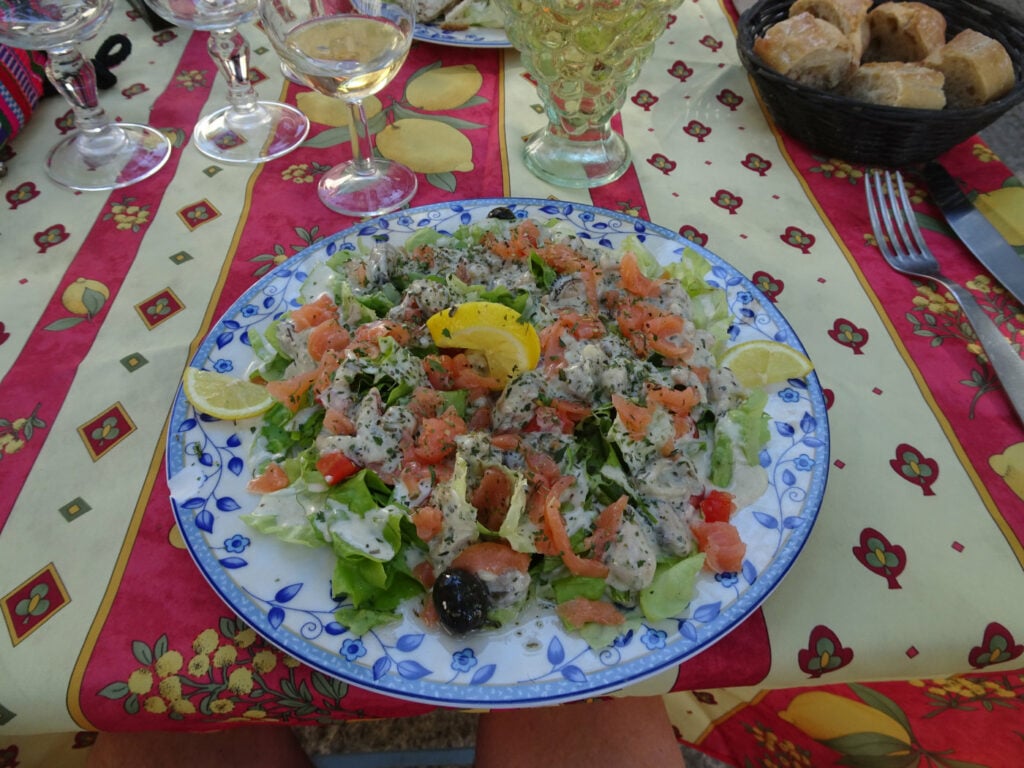 My oceanic salad. As much seafood as lettuce. That is contrast to the US where it would be mounds of lettuce with a few bits of seafood. Of course it was three times more expensive than the one in the US would have been. On the other hand it was ten times better that the one in the US would have been. It doesn't take a math genius to determine which was the have better meal, both in taste and in value. In the US we are so used to garbage food we think it is normal.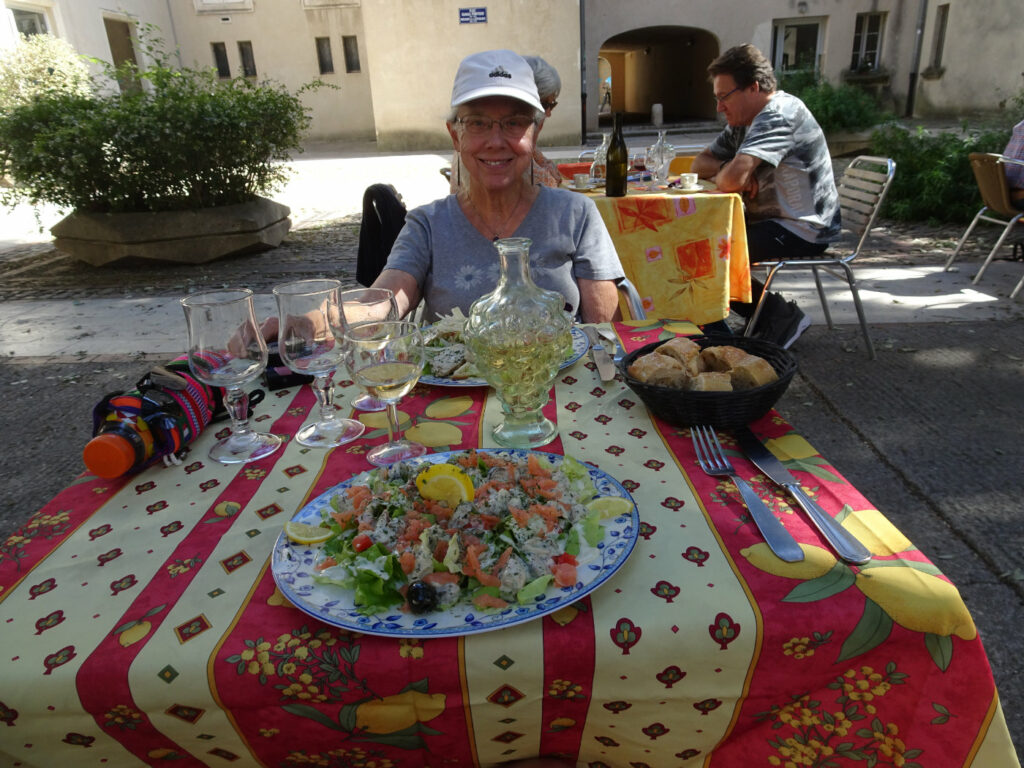 Please, everyone, take a chance, you never know what you will stumble upon.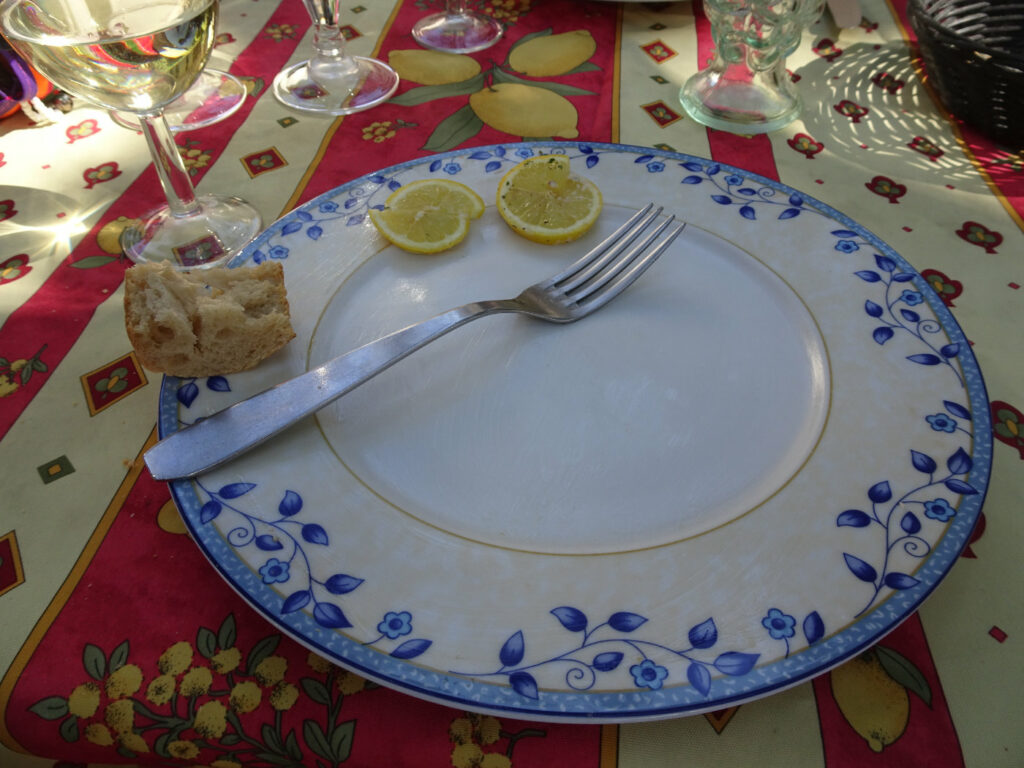 It was so good they won't even have to wash my plate.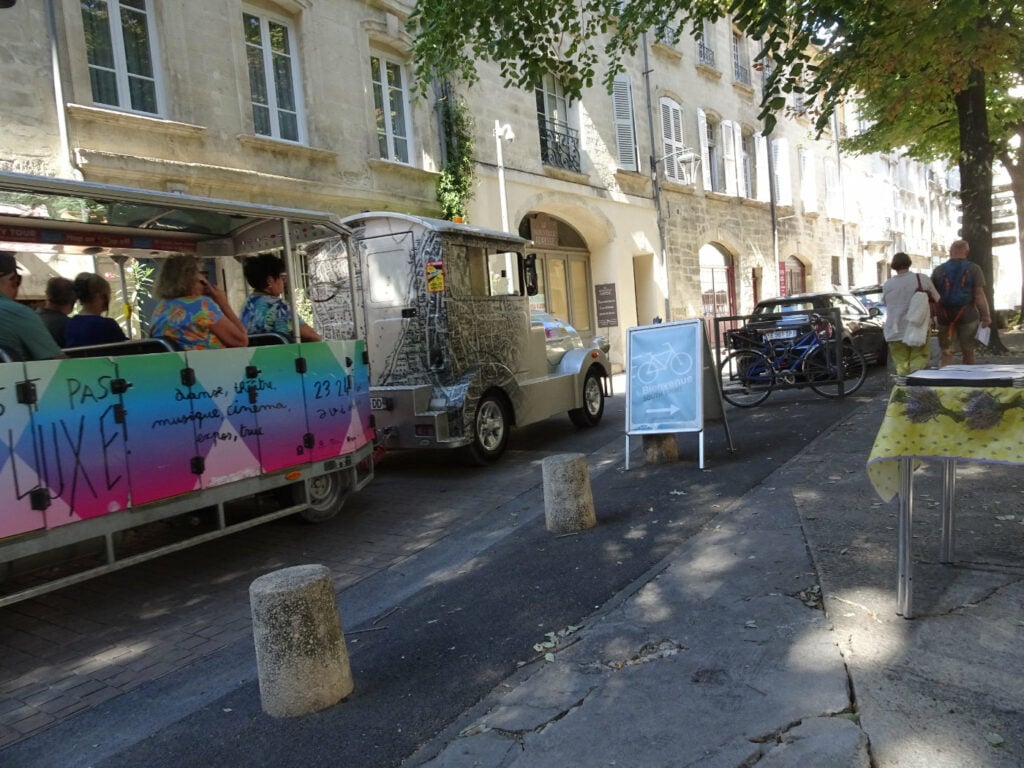 As if to further add credence to how special this little hidden spot was, as we were eating the Le Petite Train can down the narrow street beside our table.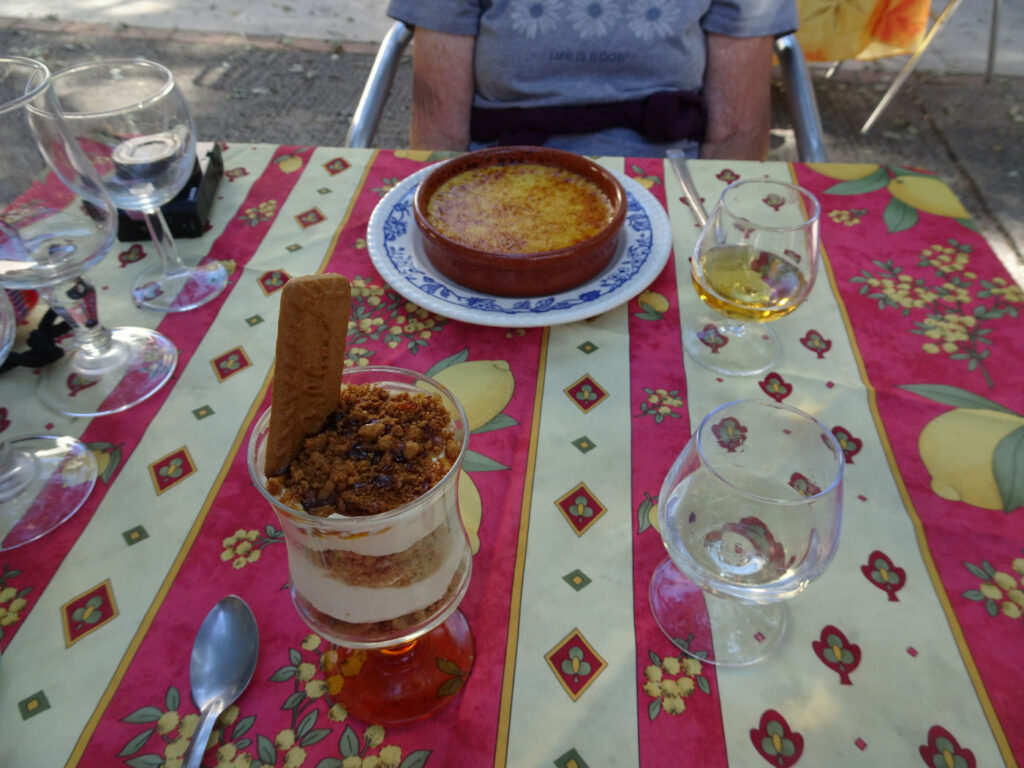 Homemade Crème Brule for my wife with Calvados and Tiramisu with Marc de Provence for me made for one of the most delicious meals we have had on our trip. The Calvados was as good as any we have experienced in our travels in Normandy. When I ordered the Marc de Provence I only knew it was a specialty of the region. It took a couple of sips to realize how complex it was, but from then on it was a true treat to the palate. All of our best experiences in our many years of travelling outside the US have been when we took a chance on something or someplace we knew nothing about. To those that only experience the top five Trip Advisor restaurants, etc., our experience venturing off the path of the travel lemmings is so much better and you have no clue as to what is really out there to be experienced.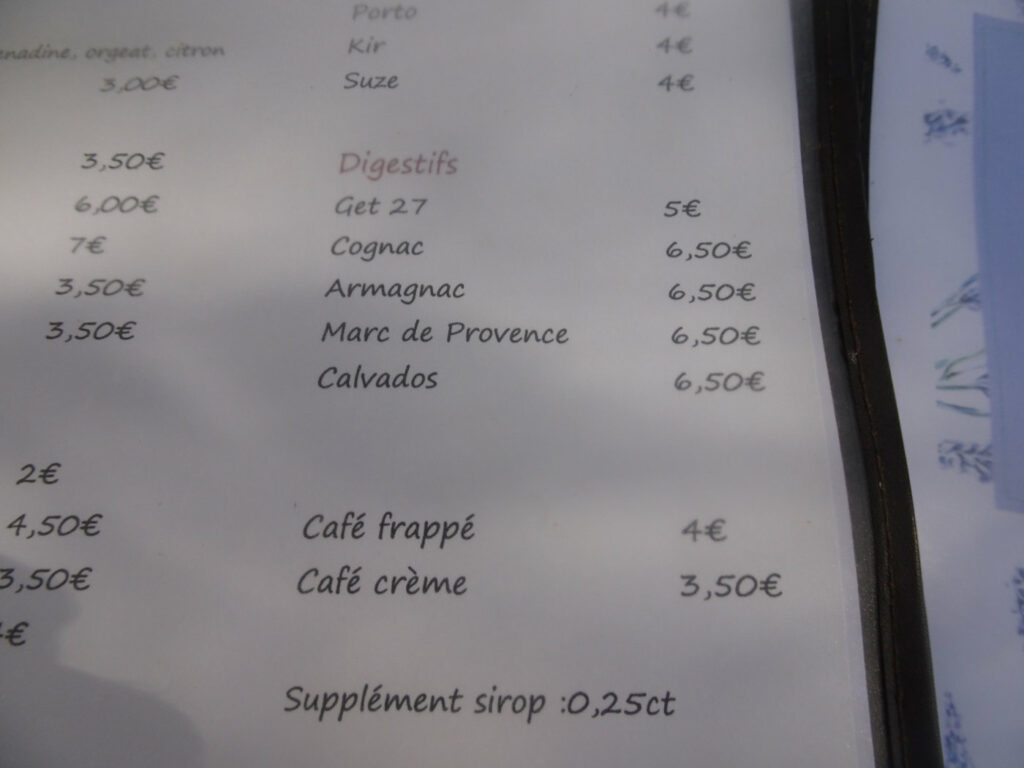 All we knew when we ordered.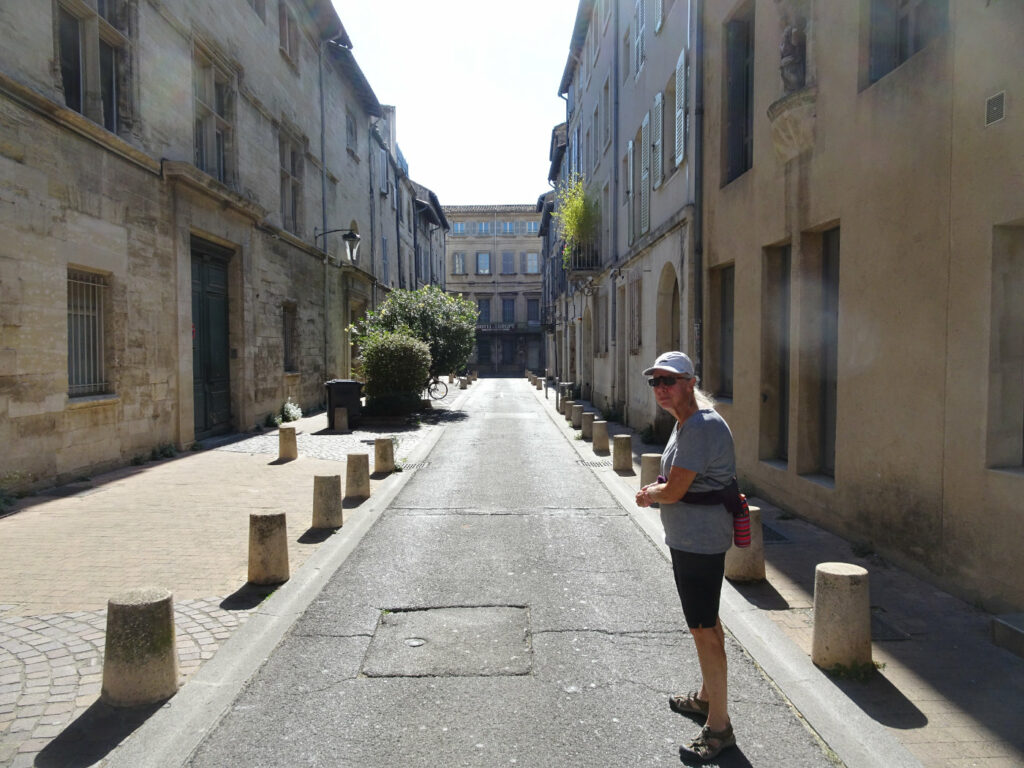 deserted old town.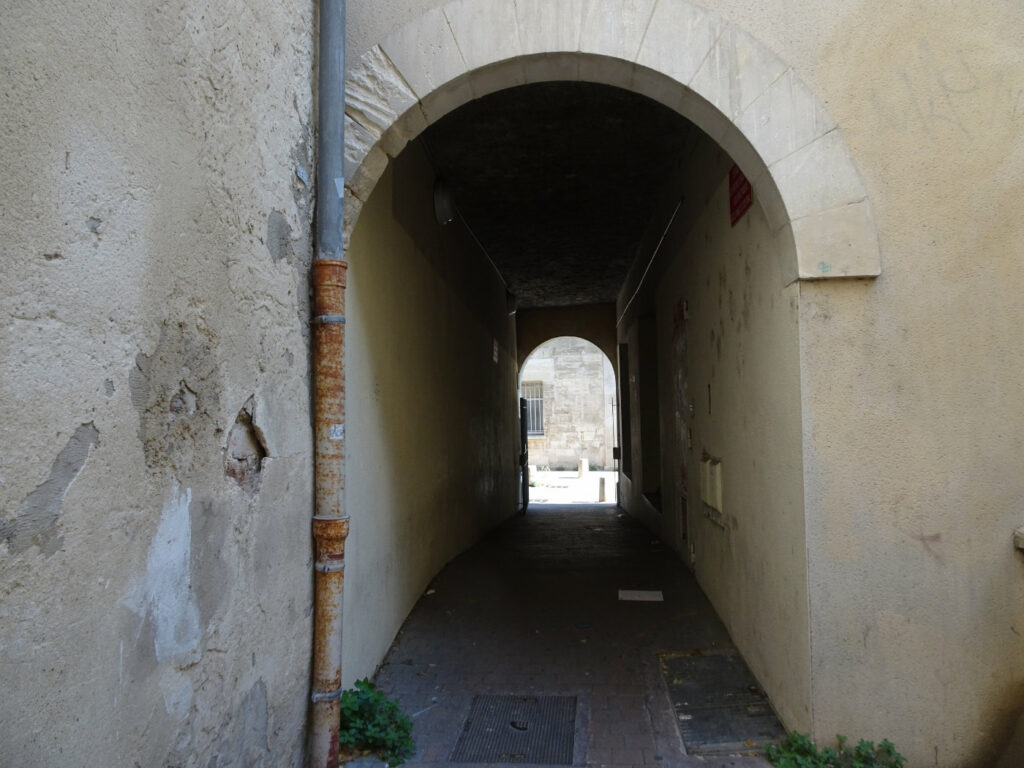 Whenever I see something like this I want to explore.